We're on a mission to modernize every aspect of the eBay marketplace.
Working across the entire customer experience and product development lifecycle, our team is guided by core design principles focused on speed to market, intentional design, reducing complexity and crystallizing a seamless end-to-end customer journey. Centralized within eBay's Product organization under the VP of Design, Brian Kralyevich, the team is organized around business domains, strategic company initiatives and horizontal efforts such as End-to-End Product Experience, Product Evolution, Brand Creative, Content Design, Design Research, Product Prototyping and Design Operations & Culture.
Product Design
We focus on building experiences that empower our buyers to discover more valuable products, and our sellers to reach more buyers. Our design work helps our users intuitively accomplish goals and tasks, but also makes them feel welcome, comfortable and secure.
Brand Creative
Brand is product; product experience is brand. It's intentional — and strategic — that this team, dedicated to crafting the future state of our brand primitives, sits inside the product organization. We define typography, iconography, color, illustration, photography, motion and sound — all of which come together inside our design system that shapes both our brand and our product experience.
Design Research
Human-centered insights and a deep understanding of people and culture are critical to how we do our best work. We guide partners and teams through research to discover, interpret and communicate insights and opportunities in an inspiring way. We help our teams use design to understand people and culture while using what we learn to inspire and inform the product.
Content Design
Writing is designing and that language is a design material. Our content designers solve complex design problems with simple words. We partner cross-functionally, bringing consistency to and elevating the experience by crafting value propositions, strategic messaging frameworks, user journeys and customer-facing UI copy.
Design Technology
Solving complex design challenges through code, pushing the envelope on front-end engineering and inspiring investment in new ideas — that is this team's mission. In a truly collaborative environment, our design technologists contribute to all phases of the design process, building workflow-enhancing tools, vetting technical feasibility and creating immersive, production-minded prototypes.
Design Program Management
Through partnership with every design discipline, as well as marketing, engineering and customer support, we drive product experiences crafted to reach a global audience, connecting buyers and sellers in new, meaningful ways. We are here to motivate, empower and align cross-functional teams, champion our brand voice, and ultimately, build seamless experiences across all eBay touchpoints.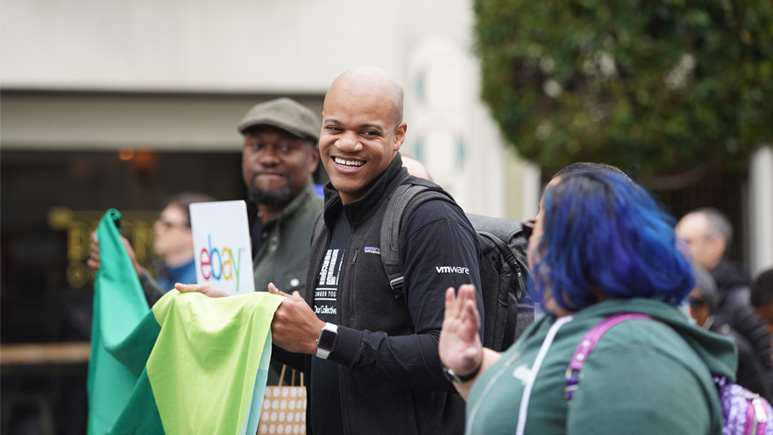 Our eBay Values
We love crafting opportunities for others by connecting people from a diverse group of backgrounds, perspectives, levels of experience and geographies. So, being diverse, equitable and inclusive isn't just something we strive for, it is who we are, and part of what we do each and every day. We want to ensure that all employees feel that eBay is a place where, no matter who you are, you feel safe, included, and that you have the opportunity to bring your outstanding self to work.
Our Partners
eBay Design is invested in advancing design equity and is an active supporter of education and outreach programs in our local communities. We partner with organizations such as Inneract Project, Out in Tech, Texas State University State of Black Design Conference, and Anita B. Org, as well as many others dedicated to transforming the future of design, and ensuring underrepresented groups secure access to opportunities in design and are equipped for sustainable careers.
STAY CONNECTED

Building Your Network

Get the latest updates on what's happening at eBay.

Follow us: