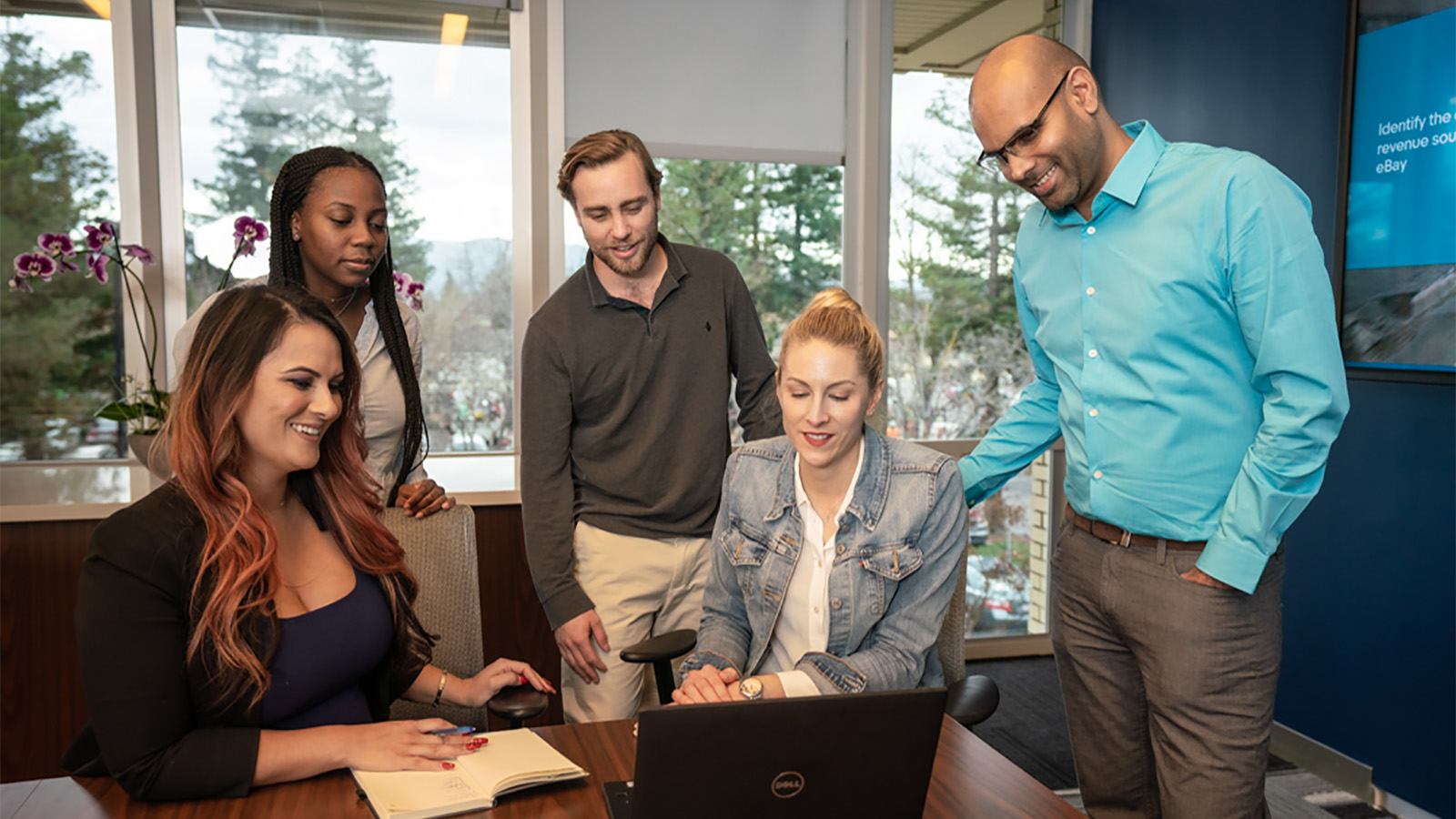 Let's Build Opportunity Together
We work side-by-side with our global business partners to deliver great experiences for our customers, both buyers and sellers, while driving better business outcomes.
Careers

Opportunities at eBay

Viewing Finance & Business Analytics, press tab to view sub-categories or press escape to close menu.
Finance & Business Analytics
Finance
We help others understand finance and are trusted advisors for every aspect of data and communication to ensure our leaders have the most up to date and reliable information to help make the best possible decisions that drive our bottom-line. Learn more about Finance & Analytics Careers.
Latest Jobs
Business Analytics
We leverage data for good. Every piece of data helps us understand eBay's products and growth, identify opportunities and execute ideas at global scale. We're able to make smarter, more informed decisions that maximize our impact to drive our business forward. Learn more about Finance & Analytics Careers.
Latest Jobs
eBay's Finance & Analytics Organization
You can have a great career that spans across multiple areas of discipline.
Leadership Programs
Finance Futures Program (FFP)
This program is designed for recent college graduates who will have the chance to experience different finance functions spanning across the entire Finance & Analytics organization. In this program you will complete three, 8-month rotations where you will be coached and mentored by leadership staff along the way.
The Finance Futures Program (FFP), launched in the summer of 2017, and is for recent college graduates that are looking to develop their finance and analytics skillset. Over the course of 2 years, the FFPs will experience different finance functions, including analytics, controlling, and financial planning and analysis. The FFPs will be given the opportunity to start their career in a purpose driven culture where our primary focus is to shape the future of global e-commerce.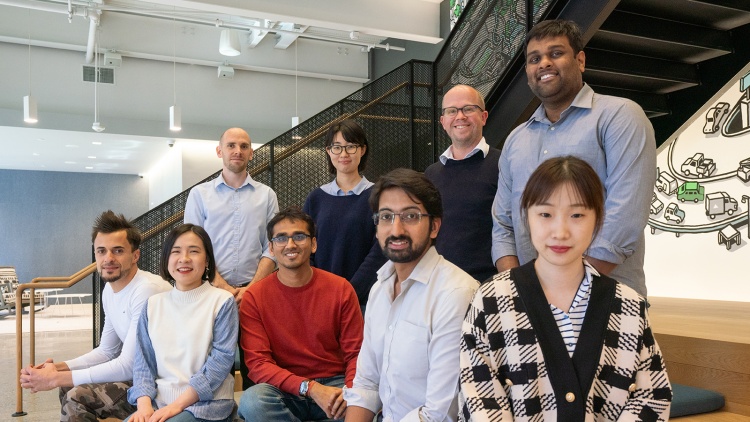 Analytics Leadership Development Program (ALDP)
This 2-year program is designed for highly talented eBay employees who have a strong desire to test the limits of their abilities and enhance their leadership potential. In this program you will complete four, 6-month assignments in various parts of the organization.
Active since 2012, the ALDP provides opportunities for those employees who want to grow their careers by getting exposed to different analytic work streams, building their network and gaining visibility with senior leadership. Participants are expected to make key contributions to their respective teams during their 6 month rotation assignments. During the program they will get opportunities to hone their technical, communication and presentation skills as well as develop their leadership skills to prepare them for leadership roles in the Analytics organization.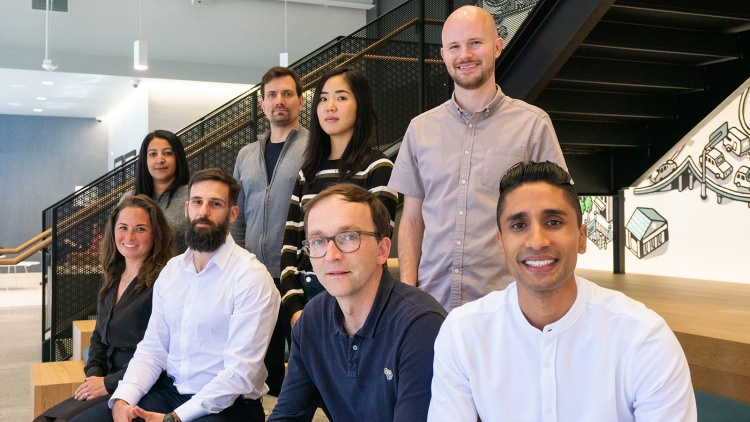 Finance Leadership Development Program (FLDP)
This program is designed to help you become an impactful leader at eBay. In this program you will complete four, 6-month rotations in various teams throughout the Finance organization.
Active since 2007, the FLDP requires a two-year commitment and consists of four global rotations. With an aim to develop strong finance leaders with a wide breadth of experience, the program's participants broaden their business acumen, develop leadership capabilities, build networks and grow their learning agility. Through four rotations in different teams in various locations, participants receive special hard skill trainings, exposure to different leadership styles and experience of cultural differences.
eBay Community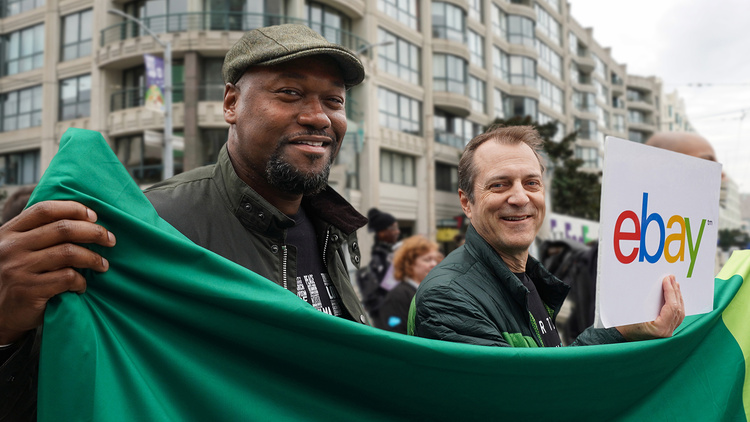 Learn More
Diversity, Equity and Inclusion (DE&I)
Diversity, Equity and Inclusion (DE&I) is core to who we are and is at the heart of what we stand for. We remain committed to becoming a richly diverse, truly equitable and fearlessly inclusive place to work, grow, buy and sell.
Employee Spotlight
We seek out top talent from around the world, who have an interest in global finance & analytics opportunities, along with having a passion for building community and economic opportunity by connecting with people through our global online marketplace.
The people at eBay are very inclusive, open to new ideas, and eager to hear your perspective.
Mason C.
Financial Analyst, Finance Futures Program
San Jose, CA
The Finance Future Program at eBay is an incredible opportunity in that not only does the rotational aspect allow you to gain a significant breadth of experience in different areas of the business, but the program is surprisingly intimate. Even as a recent college graduate, in FFP, you can make a substantial impact and work directly with senior leaders. Furthermore, the company's values, culture, and people overall make it a great place to work. It's really an exciting time to work for eBay – especially in FFP.
The people at eBay are very inclusive, open to new ideas, and eager to hear your perspective.
I joined eBay and the Finance Futures Program in August 2021. What made me want to work at eBay was the ability to work for a Fortune 500 company that in many ways feels like a startup. It was really enticing to me that at eBay you can make an impact on day 1, even as a recent college graduate.
In May of 2022, I completed my first rotation on the Payments Finance Team. In this role, I helped manage spend and headcount for the overall Payments Organization. I also collaborated with my team on various special projects. All of which contributed towards improving the customer experience and ensuring our product continues to run smoothly. Surprisingly, on the Payments Finance team, a lot of what I did in my day-to-day didn't have much to do with typical financial analysis, but more working cross-functionally with individual stakeholders to meet a common goal.
I'm currently on my second rotation with Core Product and Technology. In this role, I help out in many different areas including engineering spend and headcount management, product analytics, and capital expenditure planning. I'm excited to learn as much as I can and continue to grow in this new role.
My advice to anyone who has the opportunity to join a program like the Finance Futures Program is to get involved in a leadership role at your school or in your community. FFP is very hands-on, and often, FFPs are expected to take charge and lead important projects. Having leadership experience is critical.
In support of communities outside of eBay, I'm currently working with the Texas Tech Finance Association to help students find their dream job(s) and/or make their way into working in Silicon Valley. This involves occasional speaking engagements and individual mentoring. I also strive to donate to causes I'm passionate about through the eBay Foundation.
eBay is fearlessly inclusive. It builds a truly equitable place for the world to work, buy and sell.
Simona M.
Finance Leadership Development Program, Finance Manager
Bern, CH
I joined eBay in 2017. What made me want to work at eBay was the people and culture. I believe this is what sets eBay apart from other companies. Additionally, working for one of the best-known brands in the world, with a truly global presence, ads complexity and dynamism to everyday tasks, keeping the work always interesting.
eBay is fearlessly inclusive. It builds a truly equitable place for the world to work, buy and sell.
How I got to eBay was while I was studying for my master's degree, I was a Teaching Assistant for a class of Corporate Finance at University of Lausanne in Switzerland. From there, I worked as an intern in the financial sector doing Equity Research. It has been five years since I joined eBay, and before starting the Finance Leadership Development Program (FLDP), I have worked in Business Performance roles for Europe and Global Markets.
As of now I have completed 1 rotation as part of the Financial Planning and Analysis (FP&A) team in Germany where I worked on Spend Management and Special Pricing Contracts. I'm currently in my second rotation with the Investor Relations Team in San Jose, CA. While the internal and external views on eBay are aligned, two different sets of skills are needed to manage internal and external expectations. I remain curious to discover the next two rotations for the remainder of the FLDP and to meet, work, and learn from other teams.
What made me want to join the FLDP was the rare opportunity to accelerate personal and professional growth, while learning different roles in the finance organization. It expands your network, knowledge and skill set, intangibles that will remain with you and can be leveraged in your future roles. My favorite aspect of the FLDP is the professional training on leadership received along the program is quite powerful. Additionally, I am inspired by the leadership style of the leaders I had the chance to meet and work with across the organization during the rotations.
If you have an opportunity to join a program like the FLDP I would advise that it is an unparalleled opportunity for your career growth. I would not overthink this option: if presented to you, take it. Once enrolled in the program, you will have the resources and meet the right persons to help you navigate successfully the four rotations. You just need the courage to start, and as per Newton's Laws of Motion, a body in motion remains in motion!
What I think is unique about and What sets eBay apart in the e-commerce industry is the level of trust it enables between buyers and sellers, while operating at scale. The unique, rare inventory is what makes buyers come back. What makes investors betting on eBay is the leadership expertise to preserve the high-profit-margin business model. And finally, from an employee perspective, eBay has a truly inclusive and empowering working culture, supporting individuals to deliver results that matter.
The possibilities to learn, grow, and make a difference at eBay are endless.
Jen Z.
VP Finance for Product, Tech, and Growth
San Jose, CA
What I enjoy about eBay is the people. Everyone is incredibly collaborative, but more importantly, everyone is focused on doing what is right for the customer. The diverse experiences and amazing talent really help to shape the culture of eBay. What I think sets eBay apart from other online retail marketplaces is the sense of community eBay creates for buyers and sellers – such a delightful and authentic experience.
The possibilities to learn, grow, and make a difference at eBay are endless.
I have had an amazing career rotating around in different finance roles – enjoying the opportunities to learn and grow. When the opportunity popped up at eBay to help support Product and Tech, I jumped at the chance, and I joined eBay in March of 2021. I have always had my eye on working at eBay through the years given the reputation the high performing finance team, as well as the mission driven culture of eBay. Shortly after joining eBay, I was asked to help with Corp FP&A, in addition to helping support Product and Tech teams. I couldn't have asked for a better onboarding experience! Working in Corp FP&A helped me learn so much about eBay – in a very accelerated timeline given we had earnings and board meeting to prep for, all with our new CFO Steve Priest. Now, I'm focused on partnering with our Product, Tech, and Growth teams – helping to drive more value for our customers and shareholders. I love working with the teams that help make the magic happen on the eBay platform for our buyers and sellers. Making sure the teams have the resources and help to execute on strategic initiatives and help them prioritize efforts where it's most meaningful for our customers and shareholders. Something that may surprise people about my day-to-day is I spend a lot of time in 1:1s with many different people outside of my team. I love building relationships across the business, offering support and help wherever I can.
Q2 Fast Facts
Our Finance & Analytics teams extract valuable information that helps drive balanced decision making. Working with this data is exciting and rewarding because our contribution drives real change for our customers. To learn more about eBay facts, visit Investor Relations.
Amount of gross merchandise bought on mobile devices in Q2 2022
Active buyers on the eBay Marketplace
Live listings on the eBay Marketplace
*Data as of June 30, 2022.
Featured Initiatives
Managed Payments
Delivering a seamless experience for buyers and sellers, while offering a greater choice in payment options.
Advertising
eBay's advertising portfolio grew to $1 billion in annual revenue in 2020.
Featured Tools
QuickStrikeX (QSX), built by our Global Finance Systems Team, is a browser-based application using flexible open source technologies, interactive designs and engaging data experiences for all eBay employees.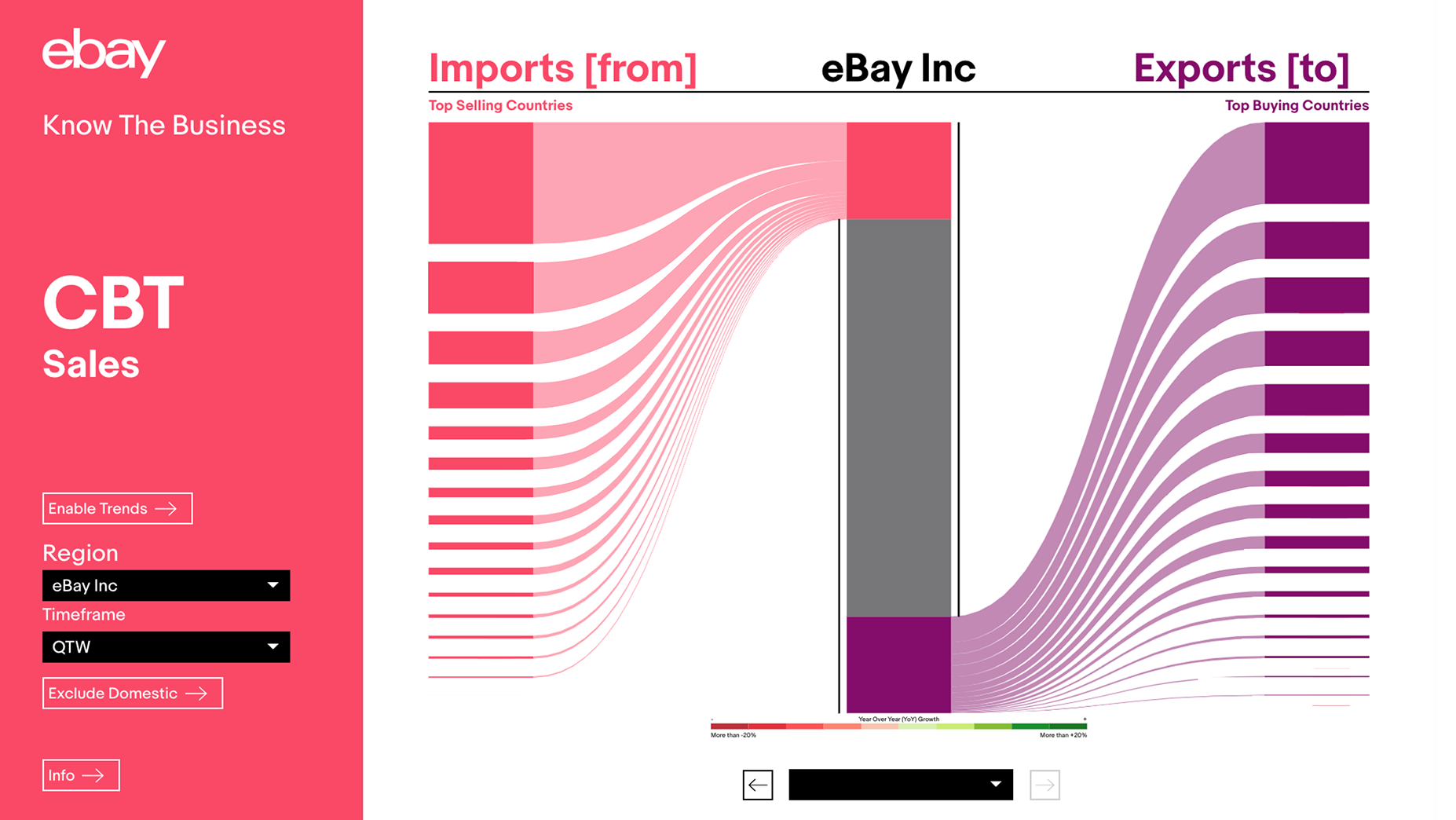 QuickStrikeX
QSX allows you to know how the business is performing. QSX gives you a clear view of the business in a variety of areas using simple, yet eye-popping visualizations.
*DISCLAIMER: QSX CBT Sales dashboard is an example only. All data and numbers have been removed and does not reflect eBay's current business and financial status
We provide our employees with some of the newest technology and robust tools to help them with their day to day activities to drive business outcomes.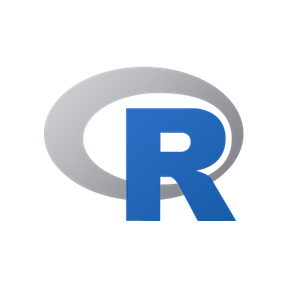 Stay Connected

Building Your Network

Get the latest updates on what's happening at eBay.

Follow us: