Let's Build Opportunity Together
We work side-by-side with our global business partners to deliver great experiences for our customers, both buyers and sellers, while driving better business outcomes.
Careers

Opportunities at eBay

Viewing Finance & Business Analytics, press tab to view sub-categories or press escape to close menu.
Finance & Business Analytics
Finance
We help others understand finance and are trusted advisors for every aspect of data and communication to ensure our leaders have the most up to date and reliable information to help make the best possible decisions that drive our bottom-line. Learn more about Finance & Analytics Careers.
Latest Jobs
Business Analytics
We leverage data for good. Every piece of data helps us understand eBay's products and growth, identify opportunities and execute ideas at global scale. We're able to make smarter, more informed decisions that maximize our impact to drive our business forward. Learn more about Finance & Analytics Careers.
Latest Jobs
Our Finance & Analytics Organization spans across multiple functions that help us better enhance and drive our business.
Leadership Programs
Finance Futures Program (FFP)
This program is designed for recent college graduates who will have the chance to experience different finance functions spanning across the entire Finance & Analytics organization. In this program you will complete three, 8-month rotations where you will be coached and mentored by leadership staff along the way.
The Finance Futures Program (FFP), launched in the summer of 2017, and is for recent college graduates that are looking to develop their finance and analytics skillset. Over the course of 2 years, the FFPs will experience different finance functions, including analytics, controlling, and financial planning and analysis. The FFPs will be given the opportunity to start their career in a purpose driven culture where our primary focus is to shape the future of global e-commerce.
Analytics Leadership Development Program (ALDP)
This 2-year program is designed for highly talented eBay employees who have a strong desire to test the limits of their abilities and enhance their leadership potential. In this program you will complete four, 6-month assignments in various parts of the organization.
Active since 2012, the ALDP provides opportunities for those employees who want to grow their careers by getting exposed to different analytic work streams, building their network and gaining visibility with senior leadership. Participants are expected to make key contributions to their respective teams during their 6 month rotation assignments. During the program they will get opportunities to hone their technical, communication and presentation skills as well as develop their leadership skills to prepare them for leadership roles in the Analytics organization.
Finance Leadership Development Program (FLDP)
This program is designed to help you become an impactful leader at eBay. In this program you will complete four, 6-month rotations in various teams throughout the Finance organization.
Active since 2007, the FLDP requires a two-year commitment and consists of four global rotations. With an aim to develop strong finance leaders with a wide breadth of experience, the program's participants broaden their business acumen, develop leadership capabilities, build networks and grow their learning agility. Through four rotations in different teams in various locations, participants receive special hard skill trainings, exposure to different leadership styles and experience of cultural differences.
Finance Community
Women at eBay - Finance
A women's organization that supports women in Finance to build lasting, successful careers. We are committed to providing opportunities for women to learn, grow and develop. 
Our Finance chapter is championed by our CFO, Scott Schenkel.
Our Strategy
Provide women leaders with experiences and tools to build long lasting careers.
Create awareness, encourage sponsorship, foster professional growth and development, and deepen connections among women in the company.
Sustain leadership commitment and a strong community of women committed to helping each other.
Our Focus
Networking events with Finance leaders
Speaker series (fireside chats and panel discussions)
Training and workshops (leadership, coaching and other topics)
Promoting mentorship and sponsorship for women in Finance
Employee Spotlight
We seek out top talent from around the world, who have an interest in global finance & analytics opportunities, along with having a passion for building community and economic opportunity by connecting with people through our global online marketplace.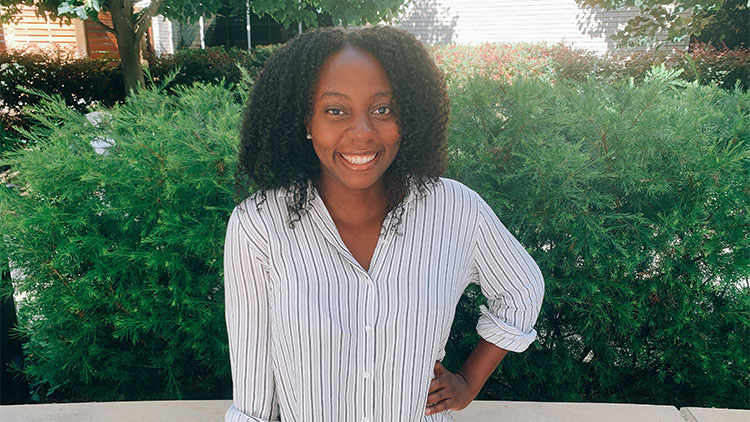 At eBay, your work impacts people's livelihood… so I always try to live the brand.
Hadia E.
Financial Analyst, Finance Futures Program
San Jose, CA
As a recent college graduate, I didn't know what area in finance I wanted to work, I wanted a role that would give me exposure to different areas — the Finance Futures Program (FFP) provided an opportunity to explore different areas within Finance.
At eBay, your work impacts people's livelihood… so I always try to live the brand.
My advice for recent college grads, is to try and find a role that allows you to see the different sides of the business or field you're in. For me, being in a rotational program like the FFP has increased my adaptability—pushing me to learn things quickly and working with different teams.
I'm currently in my third rotation on the Global Revenue Controlling team. The team I am on is responsible for maintaining the integrity of eBay's revenue and ensuring that the revenue is properly accounted for. An advantage of being on this team is that it is easy to see the relevance and importance of the work that you do. I'm getting the chance to on work things such as core transaction revenue, contra revenue, and transaction loss that rolls up to our balance sheet and P&L.
From this rotation I've learned that there is a lot more to accounting than what people may think. For instance, there are many opportunities to work on cross-functional projects that involves Product, Finance, and different Business Units. This program has broadened my perspective and has increased my learnings.
We are here to create an economic opportunity for everyone.
Janine B.
UK Controller, Finance Leadership Development Program
London, United Kingdom
I started at eBay in 2009 and in 2017 decided to join the Finance Leadership Development Program (FLDP) to experience and understand how eBay's divisions interlock to drive the business forward. I took this opportunity to get more malleable – both personally and professionally.
We are here to create an economic opportunity for everyone.
I started the FLDP in Salt Lake City, Utah at our Global Customer Experience Finance Team with supporting eBay's APAC Region and lead global projects to optimize and streamline processes.
During my 2nd rotation in San Jose, California I worked at the Internal Audit Organization on several audits and operational excellence projects An outstanding experience was the audit of our Korean business, to learn about the differences of eBays market dynamics and to visit our office Seoul, South Korea.
My 3rd rotation brought me to Sydney, Australia to establish Business Performance reporting for all new initiatives launched in 2018.
With the 4th and last FLDP rotation as the UK Controller in London the circle completed. With the experience and personal development over the last 2 years, it is great to be back to the Controlling world.
FLDP was an exciting opportunity for me to develop new skills, learn from eBay's great talents around the globe, extend my professional and social network and combine all of this with travelling to new places. Every place I visited and every person who crossed my path during these two years helped me to unfold and understand myself, and to realize the impact I can drive in this world.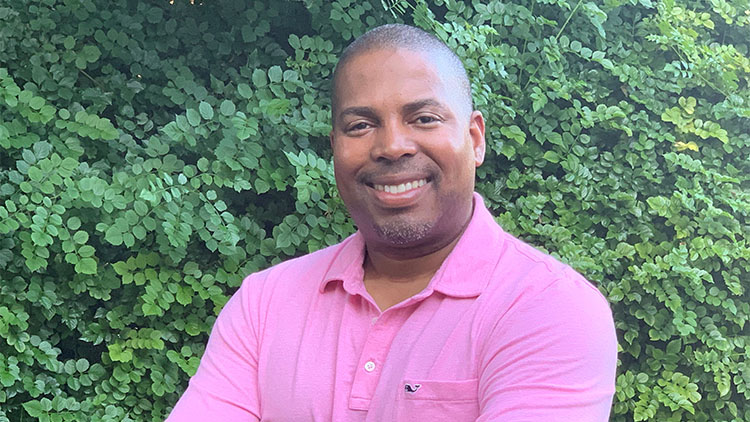 I enjoy eBay's vibrant culture, friendly people, and fast-paced environment.
Greg W.
Director, Head of Global Investments, Treasury
San Jose, CA
I joined eBay in 2014 due to their solid reputation as a leader in global e-Commerce and because of the scale they have achieved due to its global operations. eBay is different from any other online retail marketplaces because of their unique selection of items, many rare, that can't be found anywhere else.
I enjoy eBay's vibrant culture, friendly people, and fast-paced environment.
In my current role at eBay, I work in a group that invests eBay's balance sheet cash in order to preserve capital and achieve attractive risk-adjusted returns. An interesting fact about my current role is because we act as an internal Investment Manager, we work Wall Street hours and start our day around 6am.
Q2 Fast Facts
Our Finance & Analytics teams extract valuable information that helps drive balanced decision making. Working with this data is exciting and rewarding because our contribution drives real change for our customers. To learn more about eBay facts, visit Investor Relations.
Number of times eBay mobile apps have been downloaded globally
Number of active eBay Inc. buyers worldwide
Percentage of transactions on the eBay Marketplace that shipped for free
Featured Initiatives
Managed Payments
We believe this is an opportunity to deliver a more seamless experience for both buyers and sellers, while offering a greater choice in payment options.
Advertising
Advertising, with a focus on first party advertising through Promoted Listings, represents one of eBay's significant growth opportunities. Our total advertising portfolio has the potential to grow to $1 billion in annual revenue in the next few years.
Featured Tools
QuickStrikeX (QSX), built by our Global Finance Systems Team, is a browser-based application using flexible open source technologies, interactive designs and engaging data experiences for all eBay employees.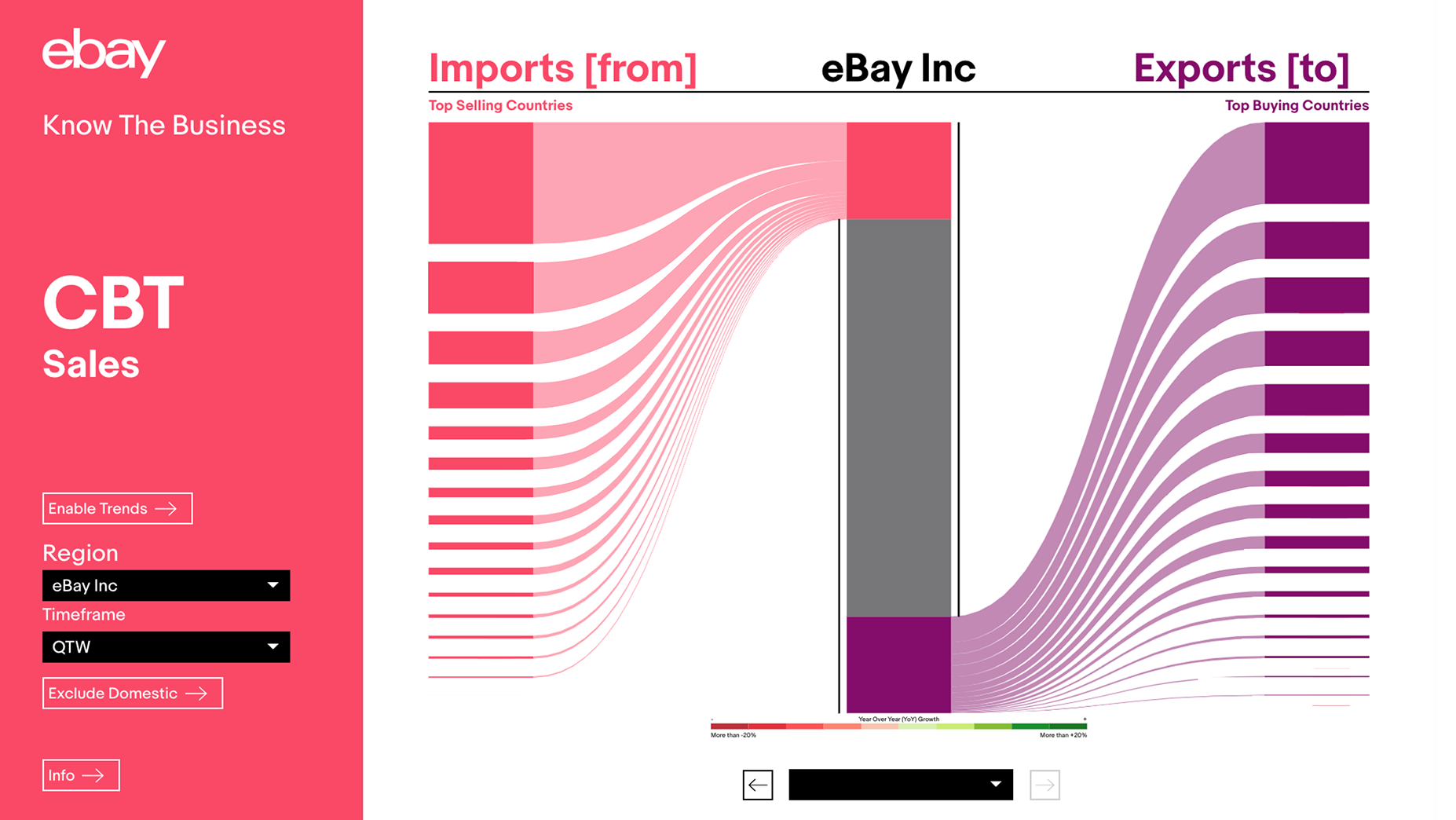 QuickStrikeX
QSX allows you to know how the business is performing. QSX gives you a clear view of the business in a variety of areas using simple, yet eye-popping visualizations.
*DISCLAIMER: QSX CBT Sales dashboard is an example only. All data and numbers have been removed and does not reflect eBay's current business and financial status
We provide our employees with some of the newest technology and robust tools to help them with their day to day activities to drive business outcomes.

Growing and developing our people is a core responsibility for everyone in our organization, whether you're an individual contributor, people manager or a senior leader. When we invest in our people and ourselves, we help to drive better business outcomes. Whether you're a customer or an employee, eBay offers tremendous opportunities.
– Scott Schenkel, SVP, Chief Financial Officer
Ready to Apply?
Join Our Team