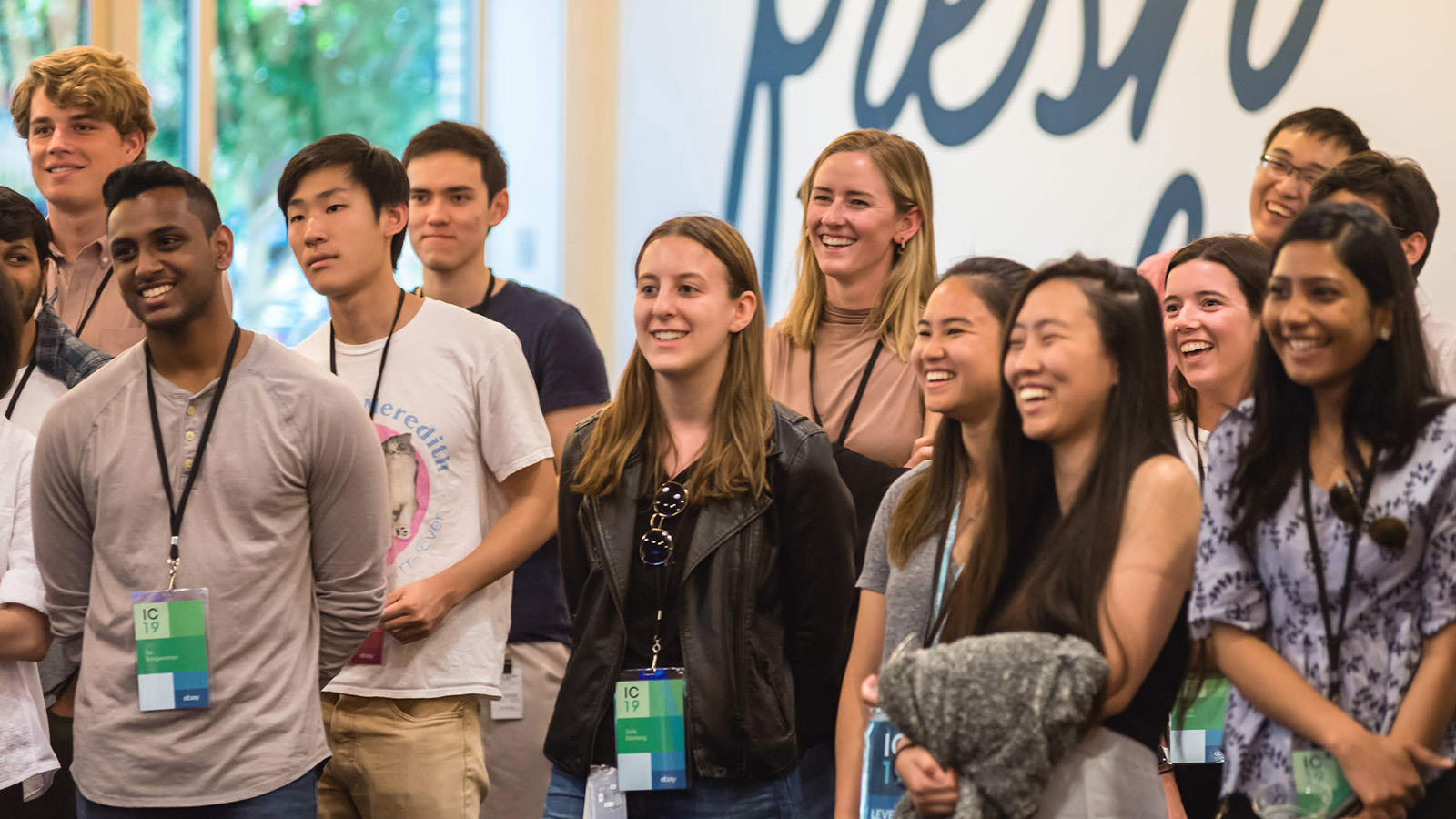 Creating Opportunities for Growth
We are dedicated to ensuring that everyone who goes through our university program develops and grows both personally and professionally. We coordinate a series of lunch and learns and speaker series on a wide range of topics to ensure that we create opportunities where you can continually learn new things about eBay and our platform.
Interns and Recent Grads
Help us reimagine our marketplace for millions of customers around the world.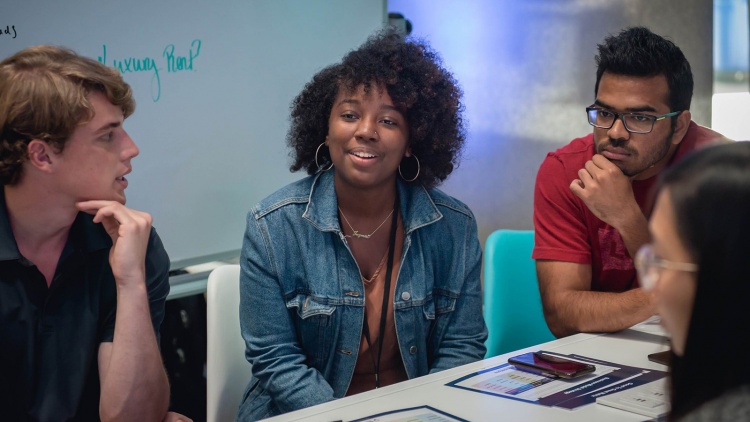 View all internship openings
Interns: A New Beginning
We love interns! As an eBay intern you will grow your skill set by speaking with top leadership, participate in challenges curated by our CEO, and work on meaningful projects that directly impact eBay's business. Aside from all of the learning opportunities, you'll be making memories and friends with fun outings that enhance your intern experience.
Check out our intern opportunities in North America, Europe and Asia.
North America
Bellevue, WA
Boston, MA
New York, NY
Portland, OR
San Francisco, CA
San Jose, CA
Europe
Berlin, Germany
Dreilinden, Germany
Krefeld, Germany
Asia
Bangalore, India
Hong Kong, China
Seoul, Korea
Shanghai, China
Shenzhen, China
Taiwan, China
View all recent college grads openings
Recent Grads: Get Started Now
Ready to start your career? If you're interested in joining a purpose driven community that is dedicated to creating an ambitious and inclusive workplace, start your career at eBay! With regular social activities, Speaker Series and Conferences, the University Team helps navigate your first year with resources to ensure you are set-up for success at eBay.
I chose to return to eBay full-time after completing a summer internship. For twelve weeks, I worked alongside Finance leaders in Corporate FP&A which provided me with a one-of-a-kind learning experience, as well as demonstrated eBay's investment in developing new talent—making my decision to return very easy.
– Carling W., Finance Futures Program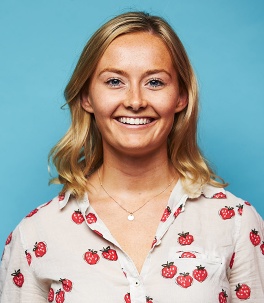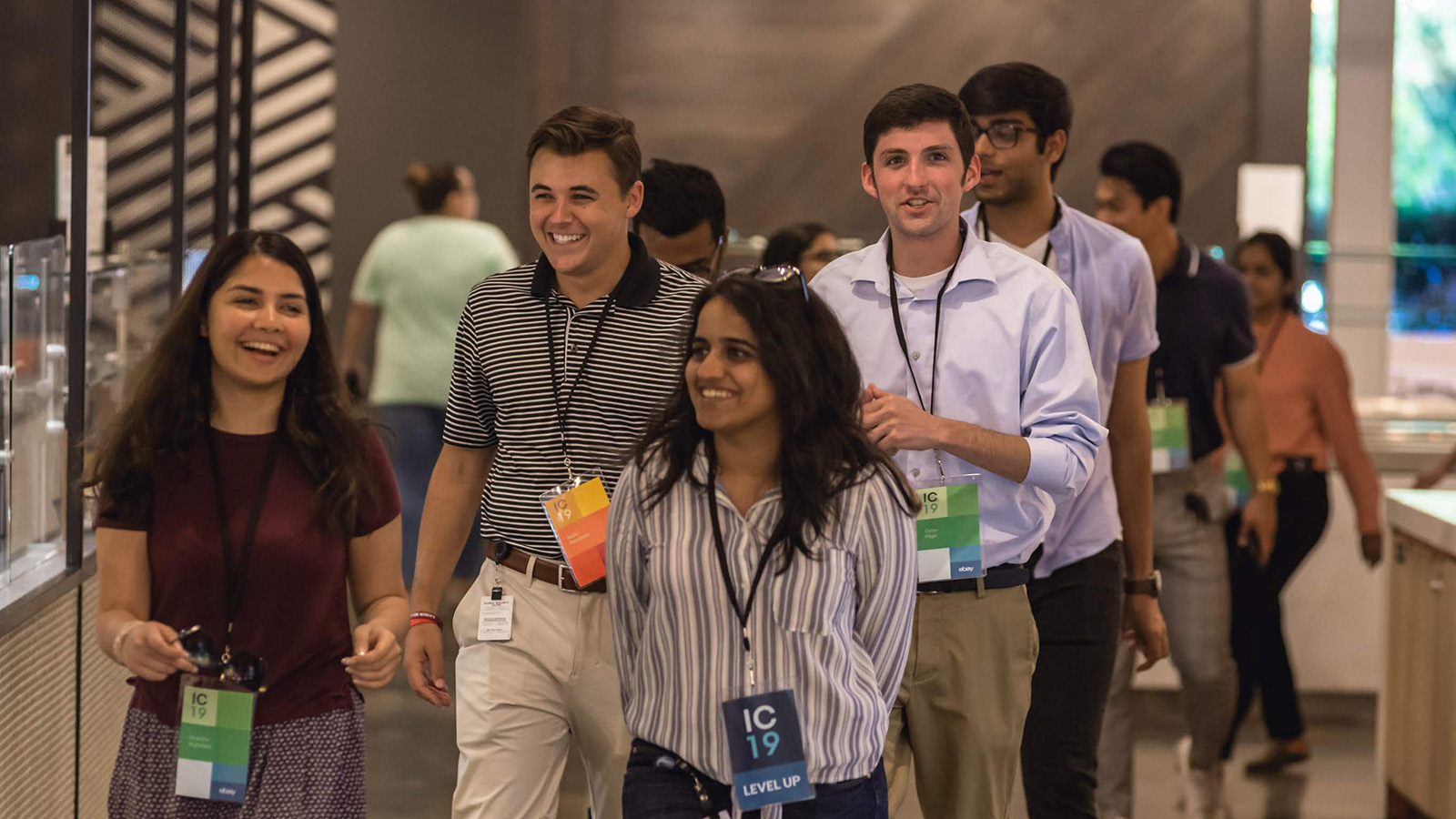 Campus Visits
Come see eBay on campus and learn about our purpose-driven community that is dedicated to creating an ambitious and inclusive workplace at a career fair near you!
Grace Hopper Conference
eBay values strategic partnerships with organizations who have a proven track record of success and shares our values and our commitment to diversity and inclusion. GHC is an excellent partner to help improve our gender diversity efforts and that's why eBay has supported GHC as a Diamond Sponsor for the past four years. 
With more than 80 employees in attendance this year, our booth was vibrant and in a premium location at the career fair. People lined up for our booth, and we screened hundreds of candidates. Those lines were comprised of computer and data scientists, product managers, user interface designers, students, professionals, people returning to work, women and men. We built a strong pipeline of recent college graduates (RCGs)s (undergrads, masters, PhDs) and interns ready to help us shape the future of eBay.
AfroTech Conference
What makes our global marketplace so vibrant is the mosaic of voices, representing many walks of life and communities, who buy and sell on our platform, join our workforce and bring their best selves to our workplace. Diversity and Inclusion are core to who we are at eBay. 
Every year, we're proud to support the AfroTech conference in the Bay Area, which convenes black technologists, creatives and entrepreneurs from across the globe. In 2019, AfroTech attracted more than 10,000 participants to network, explore employment opportunities and learn from industry thought leaders spanning a myriad of topics. eBay has supported AfroTech since it began in 2016 as its first corporate sponsor and remains committed to the organization's vision.
Intern Conference
As part of the university recruiting summer programming, we bring together interns from across the nation to participate in a 2-3 day conference to get them inspired by the eBay brand, work on team challenges that help innovate the eBay platform and give them a front row seat to innovative eBay leaders within our company.
I was brought on as the only UX researcher for the entire department, giving me the incredible opportunity to carve out my own space, define my own research, and see my recommendations have an impact across the org. It's incredibly challenging, but that's exactly what makes it so rewarding.
– Brianna P., Intern Global Customer Experience, UX researcher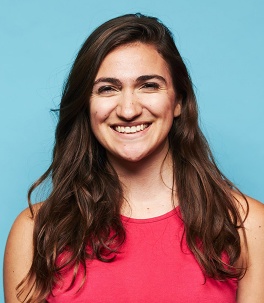 We Help Propel Your Career
YES! Stands for Young Employee Society
YES! is a community for the young and young-at-heart looking to energize culture and spark innovation within eBay while developing their careers—or helping others develop theirs. We exist to create a safe place where all employees can access opportunities.
Experience Our Finance Futures Program
Our Finance Futures Program is for recent college graduates who will have the chance to experience different finance functions including analytics, controlling, and finance. You will be coached and mentored by leadership staff along the way.
Ready to Apply?
Join Our Team